Max fitness stands apart from the typical "gym" by not only offering a superior quality facility but offering our clients what they demand. My commitment to a complete and comprehension fitness program dedicated to each individual client's goals my #1 priority.
Marc Washington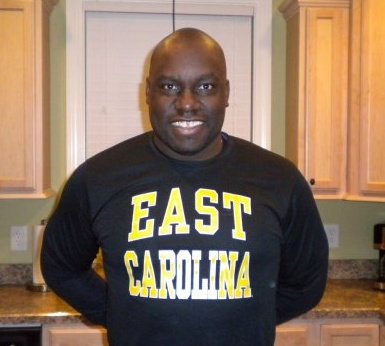 Your Success is Our Success
- Marc Washington, Founder 1996
Marc Washington (gym owner CPT, A4M MaxFitness Training) graduated from East Carolina University with a B.S. degree in Industrial Technology and a concentration in Construction Management. Marc founded max Fitness training in 1996 after working in Atlanta is a full time 8+ hours on the floor per day with clients.
Marc has been a NAFTA certified personal trainer since 1997 and has an extensive background in sport specific training working with all age levels. He focuses on circuit training with cross training for maximum circulation effective for fat loss, while increasing core strength and multifunctional strength training.
He currently trains NFL athletes and 6 collegiate athletes and 20 athletes male and female- ages 7-18. Marc has participated in organized sports for over 30 years including football, track and field, and basketball. He arrived from play football in the Purple and Gold for the Pirates. Mark was a senior on the 1992 ECU PEACH BOWL CHAMPIONSHIP team and he gives credit to his mother Maxine for a strong upbringing.
His mother shared a verse with him that he still refer to s today. "I can do all things thru CHRIST who strengthens me." (Philippians 4:13)